An UI, an UD and a Niche are IDEAS.
An UI is a simple piece of information; an UD is a collection of UI´s. A niche is a collection of UD´s, linked using the MasterSource property.
Here we will talk about how these IDEAS will be physically present in memory, when Expert Flux is running.
There are 3 types of Runtime Data: Runtime UI, Runtime UD, and Runtime Niche UD.
Runtime UI
An Runtime UI is a single UI in memory.
It is the smallest piece of information that you may have in the Expert Flux and it is a single information, like the name of a person, a number or an address.
Runtime UIs are the closest thing to a variable that exists in Expert Flux (if you are not a programmer please forget the last phrase!).
Runtime UD
A Runtime UD is like an Excel table and the expanded UIs inside it are the columns, so if you have 3 UIs (name, phone, e-mail) and 4 people (4 lines) the result is this Runtime UD:

Runtime Niche UD
Runtime Niche UD is exactly like a Runtime UD, the difference is that a Runtime Niche UD is part of a niche. Imagine that instead of a single phone number now you have more than one phone number per person. We use a Runtime Niche UD to group tables just like an UD groups UIs.
We will create 2 tables: customer and customer phone.
The customer table will have a unique customer code, and a customer name: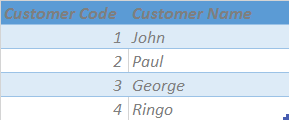 The customer phone table UD will have also 2 UIs: the same customer code and the phone number: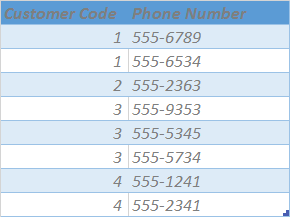 Runtime Niche UD´s also have the Current Line concept, but Expert Flux will automatically narrow your result to show only the record that are relevant to the current line. For instance if the current line is *John*, the customer phone table will be updated to show only John´s phone numbers. Nice, huh?


But if you select *George* as current line, then Expert Flux will show George´s numbers:


See also: Niche
Summary
Runtime Data in the Form
When you put an UI in the Form always it will be a Runtime UI.
When you put an UD in the Form and the field Niche is blank it is a Runtime UIs, but if field Niche is not blank it is a Runtime UD.
When you have a grid and the Niche are blank then it is a Runtime UD but if its not blank then it is Runtime Niche UD.